Los Angeles Pianist, Arranger & Conductor
* * * Check out videos of Elmo Peeler playing piano on YouTube here! * * *
Over the years I've had the good fortune to have toured the world with a number of very talented individuals and bands, including three Hall-of-Fame artists: The Beach Boys, Ricky Nelson, and Rod Stewart.
If you're in the Los Angeles area and need a pianist for recording, feel free to contact me.
If you're not near Los Angeles you can send me your track and I'll record a keyboard track to it, and send it back to you.
If you need arrangements, I can notate them and/or record them, and send them to you.
Want real strings - not just samples or VSTi's - for a very important track or live production? Rod Stewart did for his 'UnPlugged' concerts; Carl Wilson of The Beach Boys did. I'll be happy to help you, also.
If you have a TV or film production that needs music, we can talk about it. A trivia question: who composed/conducted the film score for Tommy Lee Jones' first movie (as the male lead)?
See the About Me page for more info and pictures.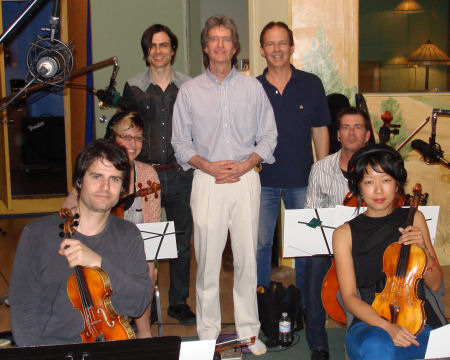 Elmo Peeler (center), Brian Bell (left) of 'Weezer' & 'The Relationship', Doug Messenger (right), owner of Hard Drive Studio,
The Section (foreground)


Want to improve your own keyboard skills? Online Piano Lessons
---
pianist/organist/synthesist
ManyMIDI Products
Beverly Hills, CA
323-650-6602
recordings@manymidi.com
Last modified: June 06, 2015